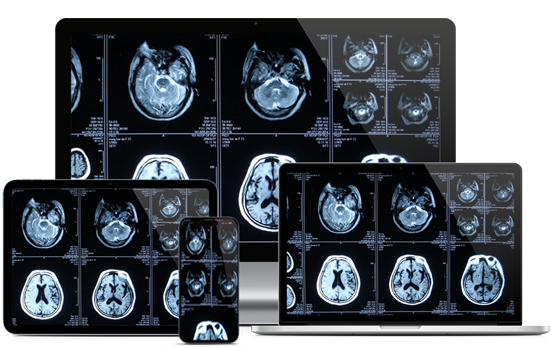 OmniPACS Intelligent Imaging
Where Clarity Meets Convenience
Experience the evolution of medical imaging with Cloud PACS. Our 15-day trial gives you the intelligent tools to save time and money in your practice.
Cloud PACS - Get Started Quickly

Sign Up
Sign up online and start using it in seconds, even if you're not tech-savvy.

Install/Upload
Install our OmniRouter and upload your images with confidence, knowing they're protected with military-grade encryption and stored in our highly reliable and redundant data centers.

Share
Use OmniPACS' permissions to give your team access to your studies.In addition, you can use OmniPACS collaboration tools to share images and communicate with other healthcare professionals.

View
Access images from anywhere, on any device, with our FDA-approved Diagnostic Viewer and non-diagnostic web viewer.
Our Cloud PACS Includes Everything You Need!

Intelligent Viewing
OmniPACS offers unlimited viewing of your studies via our ultra-accessible HTML viewer or our powerful FDA-approved diagnostic viewer.

Unlimited Sharing
Share images with anyone you need, at no cost. Patients, providers, and caregivers will have easy access to your studies.
Storage for 7 years or more
Store your images for 7 years or longer, with no limit on file size or modality type. Your images will be backed up, redundant, and secure.

Reporting
With OmniPACS Reporting, you can attach diagnostic interpretations, create doctor's notes, and manage a basic workflow for your practice.

Customer Support
We have a team of knowledgeable and compassionate support analysts who are always ready to help.

OmniPACS is a cloud PACS medical imaging management system that drives collaboration and enables new and advanced capabilities. Furthermore, OmniPACS also offers a variety of Enterprise Subscription packages to help you get the most out of your cloud PACS investment.
Drive collaboration

Enhance patient care

Enable intelligent capabilities 

Leveraging our long history in Cloud PACS and together with our Partner Ecosystem, our team of experts,  can help you with services such as:
Strategy consulting

Cloud adoption

Security auditing

Amazon Cloud (AWS) experts